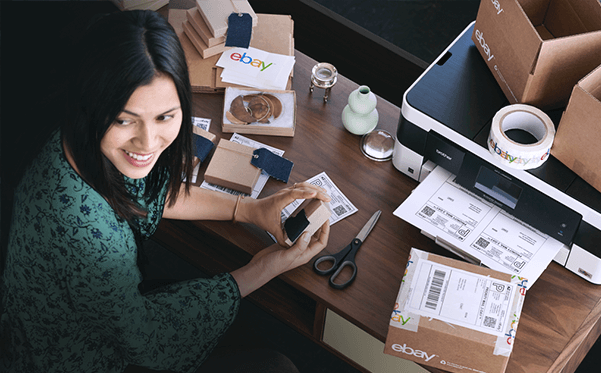 A better way to insure your eBay shipments
ShipCover offers eBay sellers peace of mind at big savings, for both domestic and international packages.
Save time.
Save money.
ShipCover is fully integrated with eBay Labels. Buying insurance is only a few clicks away. Claims are processed in days, not weeks.
And, most coverage costs less than USPS?.
Low rates, worldwide coverage
ShipCover has low rates for both domestic and international shipments. You can buy up to $1,000 of insurance coverage when you print your shipping label on eBay. Refer to the rate table below for detailed coverage and rate information.
ShipCover can also be purchased on USPS international products.*
*First Class Package International Service and Priority Mail International flat rate envelopes and small flat rate boxes are not eligible for USPS insurance, only through ShipCover insurance.
Powered by eBay
ShipCover is powered by eBay so purchasing insurance for your USPS shipments is super simple and super easy. Keep track of your shipment, delivery, and insurance all in one place.
Faster claims processing
You can file a claim on My eBay, with most claims processed within a week. You can always monitor your claim's progress 24/7 online. No more waiting on the Post Office or standing in line.
Rates list
** Includes any Surplus Line Tax and Stamping fee.
| | | |
| --- | --- | --- |
| Shipped via | Package value | Seller cost** |
| USPS Domestic | $0.01 - $100.00 | $1.70 |
| USPS Domestic | $100.01 - $200.00 | $3.18 |
| USPS Domestic | $200.01 - $300.00 | $4.26 |
| USPS Domestic | $300.01 - $400.00 | $5.40 |
| USPS Domestic | $400.01 - $500.00 | $6.52 |
| USPS Domestic | $500.01 - $600.00 | $8.87 |
| USPS Domestic | $600.01 - $700.00 | $10.45 |
| USPS Domestic | $700.01 - $800.00 | $11.80 |
| USPS Domestic | $800.01 - $900.00 | $13.16 |
| USPS Domestic | $900.01 - $1000.00 | $14.51 |
| | | |
| --- | --- | --- |
| Shipped via | Package value | Seller cost** |
| USPS International | $0.01 - $100.00 | $2.83 |
| USPS International | $100.01 - $200.00 | $4.61 |
| USPS International | $200.01 - $300.00 | $6.48 |
| USPS International | $300.01 - $400.00 | $8.24 |
| USPS International | $400.01 - $500.00 | $10.04 |
| USPS International | $500.01 - $600.00 | $11.11 |
| USPS International | $600.01 - $700.00 | $12.78 |
| USPS International | $700.01 - $800.00 | $14.42 |
| USPS International | $800.01 - $900.00 | $16.07 |
| USPS International | $900.01 - $1000.00 | $17.72 |