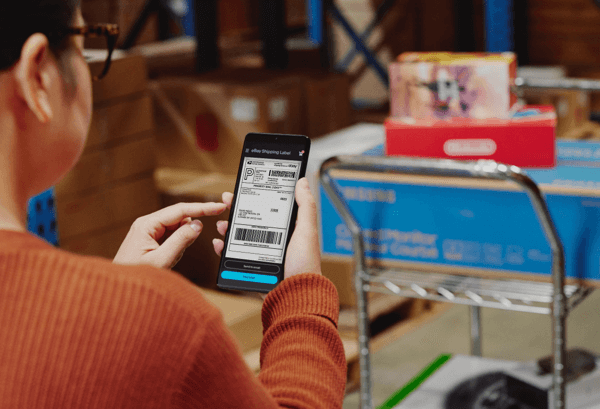 An easy way to ship what you sell
eBay Labels is a time- and money-saving eBay service that enables you to seamlessly add a shipping service when you list items and easily print shipping labels after the sale. Your buyer's information is already in our system, so all you have to do is enter the package's weight and dimensions and choose your preferred carrier and shipping method. Then simply send the label to your printer. You can also choose to generate a QR code on your mobile device and print the label when you drop off the package with the carrier (where available).
eBay Labels offers you versatility and added value
Choose your preferred carrier
eBay Labels enables you to compare rates from UPS®, FedEx®, USPS® and eBay delivery services to easily find the right balance of cost and delivery time to suit your needs.
Save with eBay-negotiated rates and no subscription fees
Unlike many third-party shipping websites and apps, there's no monthly or annual fee to use eBay Labels. Plus you can save with eBay's pre-negotiated rates.
Save time by selling and shipping on one platform
eBay Labels is built into eBay itself, so all the customer and product information from your sales are already in our system when you print labels. Plus, tracking is automatically uploaded so you and your buyers can have peace of mind every time you ship.
To save even more time, you can print labels in bulk (with free automatic tracking) up to 100 at a time and drop off your packages at a USPS, FedEx or UPS location near you.
Grow your sales by shipping internationally
On average, selling to customers outside of the U.S. can boost your sales up to 10%. And we offer two options that make it easier than ever to ship to customers around the world: eBay international standard delivery and our Global Shipping Program (GSP).
eBay international standard delivery provides a low-cost, secure international shipping option to over 210 countries, making your items even more attractive to buyers.
GSP makes it easy for you ship internationally. Simply send your items to our GSP hub in Kentucky, and eBay will fill out all required customs forms, collect and remit any import duties and tax, inspect and forward your packages to more than 100 countries.
Shipping is simple with eBay Labels
1

After the sale

When you sell an item, find it in the Sold section in My eBay or the Seller Hub and click "Print shipping label"
---
2

Enter details

Enter the package's weight and dimensions, then select a carrier and shipping method
---
3

Generate label

Choose "Purchase and print label" or "QR Code"
---
4

Label and ship

Place the label on your package and ship it
5 tips featured in this video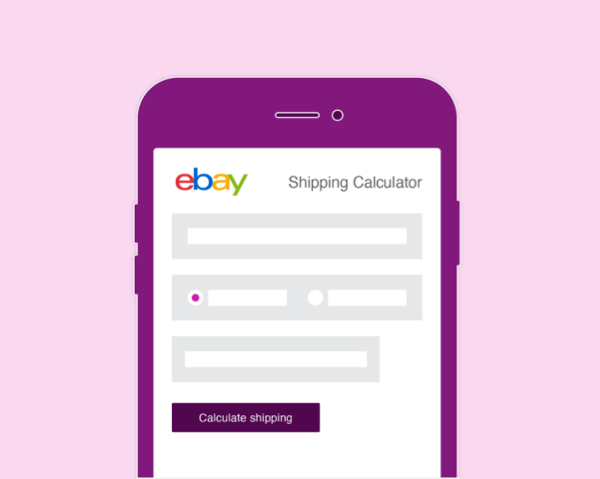 eBay's Shipping Calculator is at your service
Quickly calculate eBay Labels shipping costs and compare eBay-negotiated rates from top carriers with our convenient Shipping Calculator.
If you offer free shipping, use the Shipping Calculator to determine how to include the cost in your listing price. And if you offer flat-fee shipping, use it to determine a reasonable rate.
FAQs
Can I print labels in bulk on eBay?

Yes, you can print up to 100 labels at a time (all with free automatic tracking). Click "Label preferences" from your My eBay Selling page to select your printer and customize how your shipping labels print.

My label didn't print properly. Can I reprint it without paying again?

No worries! If your label printed incorrectly, you can reprint it for free.

I printed a label but I'm not going to use it. Can I void the label and get a refund?

Yes. You have up to five days from the time you print a USPS label to void it and get a refund. The cost of the label will be credited to your eBay account within 21 days.

To void a label:

Go to My eBay and click Shipping Labels under "Sell.".
In the Actions column, click "Void label."
Follow the instructions on the "Void your shipping label" page.

For FedEx and UPS labels printed on eBay, you are only charged for the labels you use.

Can I print shipping labels for buyers outside the U.S.?

Yes, eBay Labels allows you to ship globally via eBay international standard delivery or our Global Shipping Program.

What are USPS postal zones and how do they affect my shipping costs?

USPS postal zones aren't actual geographic zones, but rather, codes that convey the distance a package has to travel in miles from its origin point.

Zone 1: 1-50 miles
Zone 2: 51-150 miles
Zone 3: 151-300 miles
Zone 4: 301-600 miles
Zone 5: 601-1000 miles
Zone 6: 1001-1400 miles
Zone 7: 1401-1800 miles
Zone 8: 1801 miles or greater
Zone 9: Designated for Freely Associated States such as Guam, Palau and other United States Territories

The USPS mail class you select (First Class, Media Mail, Priority Mail, etc.) along with the shipping zone will determine the price of postage. You can look up USPS postal zones here.

Keep your address up to date in your eBay account, and be sure that your return address ZIP code matches the ZIP code you're actually shipping from.

For instance, if your business has locations in multiple states or the Post Office near your work has a different ZIP code than the one near your home, be sure to use the correct ZIP code on your return address when shipping. If the ZIP code on your shipping label doesn't match the ZIP code you're shipping from, USPS may charge your customers additional postage that's due upon delivery.