Seller Hub
Manage and grow your business with one free tool.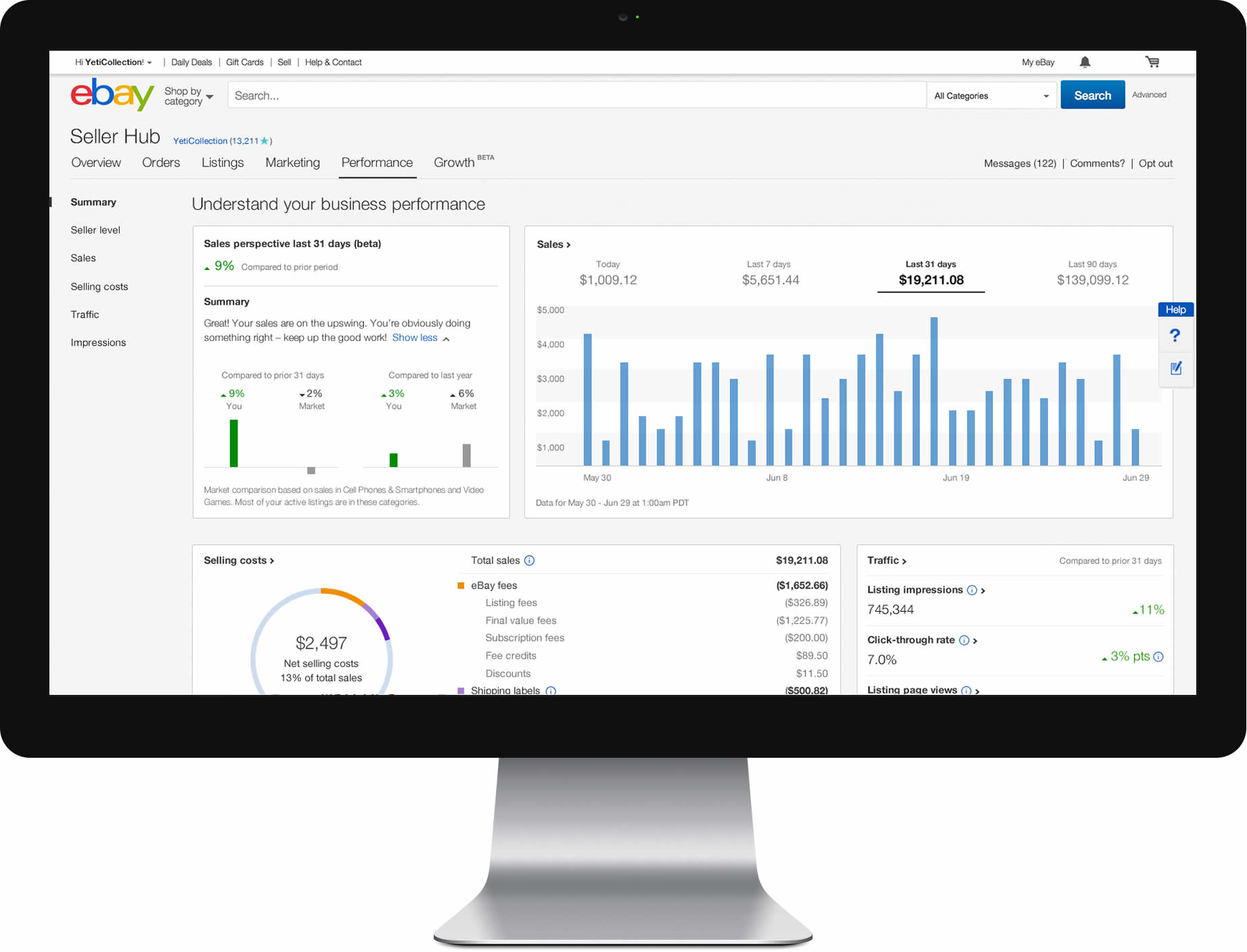 Everything you need to grow your business
Seller Hub offers everything you need to build and grow your business on eBay. Enjoy centralized access to:
Your listings and orders
Multi-user Account Access for listings and orders
Performance, orders, sales and tax reports
Promoted Listings Standard
Promotions manager
Offers to buyers
International and domestic shipping options
Terapeak Research
Payments management
Why use Seller Hub?
Get started
Manage and grow your business in one convenient location
Seller hub helps you
Track sales over specified periods.
Manage upcoming tasks.
View service metrics and peer benchmarks.
Making your work easier
Run your business faster with seller hub
Seller Hub helps you
Create listings faster with a streamlined listing tool.
Edit active listings and manage orders with robust search and sort capabilities.
Relist similar and other items that you previously promoted.
Download Orders Reports directly to your computer.
Manage shipping, cancellations, and returns easily in one place.
Grow your business
Get detailed traffic reports.
Identify under-performing listings.
Improve your listings using actionable insights.
Send offers to interested buyers.
Edit Best Offers in bulk.
Edit your active listings.
Create Volume Pricing promotions.
Increase your listings visibility with Promoted Listings Standard.
All the tools you need to succeed
Seller Hub incorporates the functionality of all our previous listing tools—including the bulk edit and relist tool—to help you manage your business more efficiently.*
Stay on top of your business
Seller Hub gives you a concise summary of any actions you need to take so you can fulfill orders promptly and respond quickly to buyer questions and requests. Also, take advantage of detailed reports in your dashboard and quickly and easily download Orders Reports directly to your computer.
Competitive listing guidance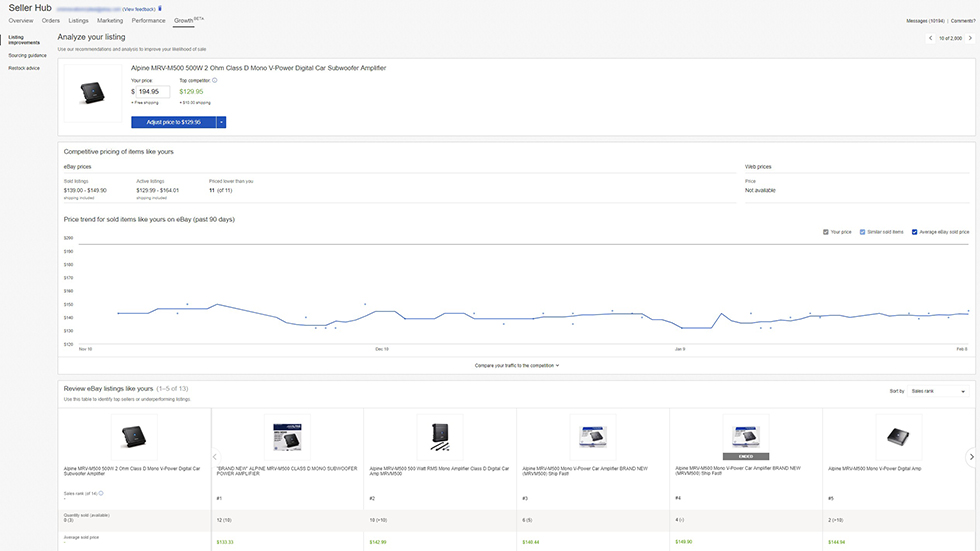 Beat competitors with better insights
The new Growth tab in Seller Hub shows you the selling secrets that give you an advantage. We'll teach you how to use features like
Listing improvements
Sourcing guidance
Restock advice
Simplified listing management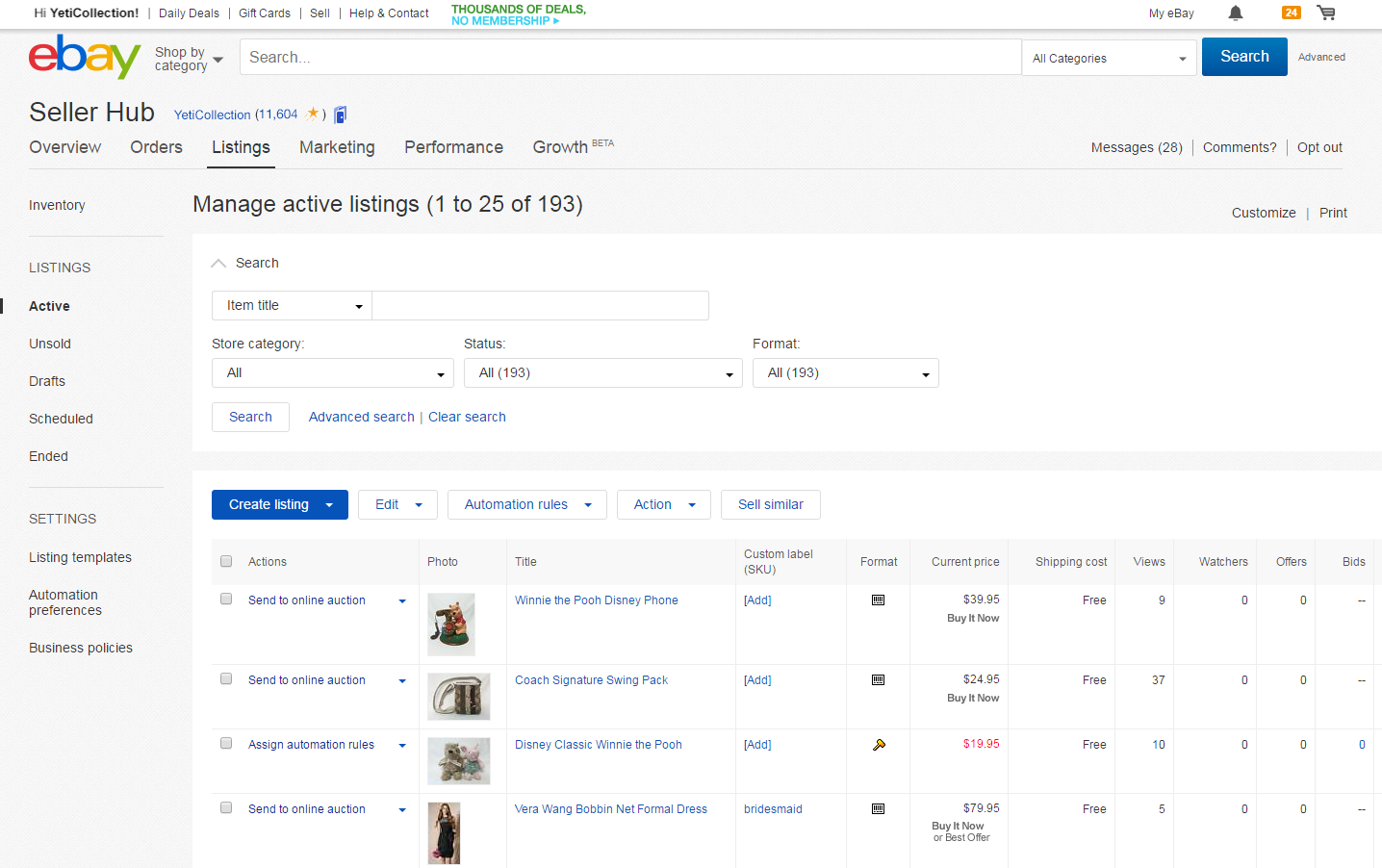 Manage listings more efficiently
Listing items is faster and easier than ever. With Seller Hub's improved functionality you can
List easier with a streamlined listing form.
Add photos directly in the form as you edit your listing.
List variations in a multi-quantity listing.
Edit live listings one-by-one or in bulk.
Optimize your selling strategy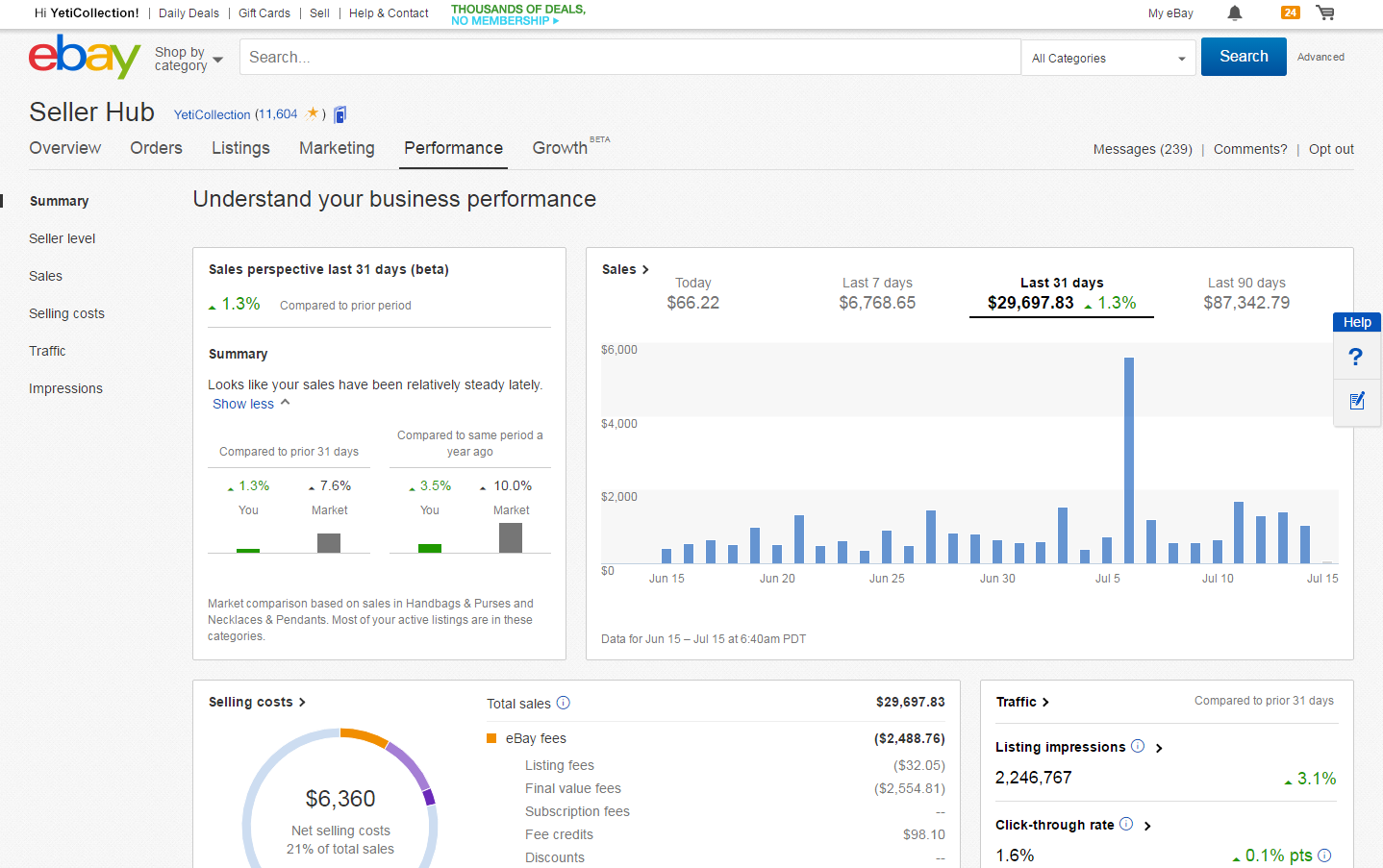 Hone your strategy with detailed sales metrics
The new Performance tab in Seller Hub gives you detailed sales performance and sales history, including
Selling costs and fees breakdown.
Daily sales trends.
Best performing listings.
Monthly sales.
Sales by country.
Page views and buyer traffic.
Exclusive marketing tools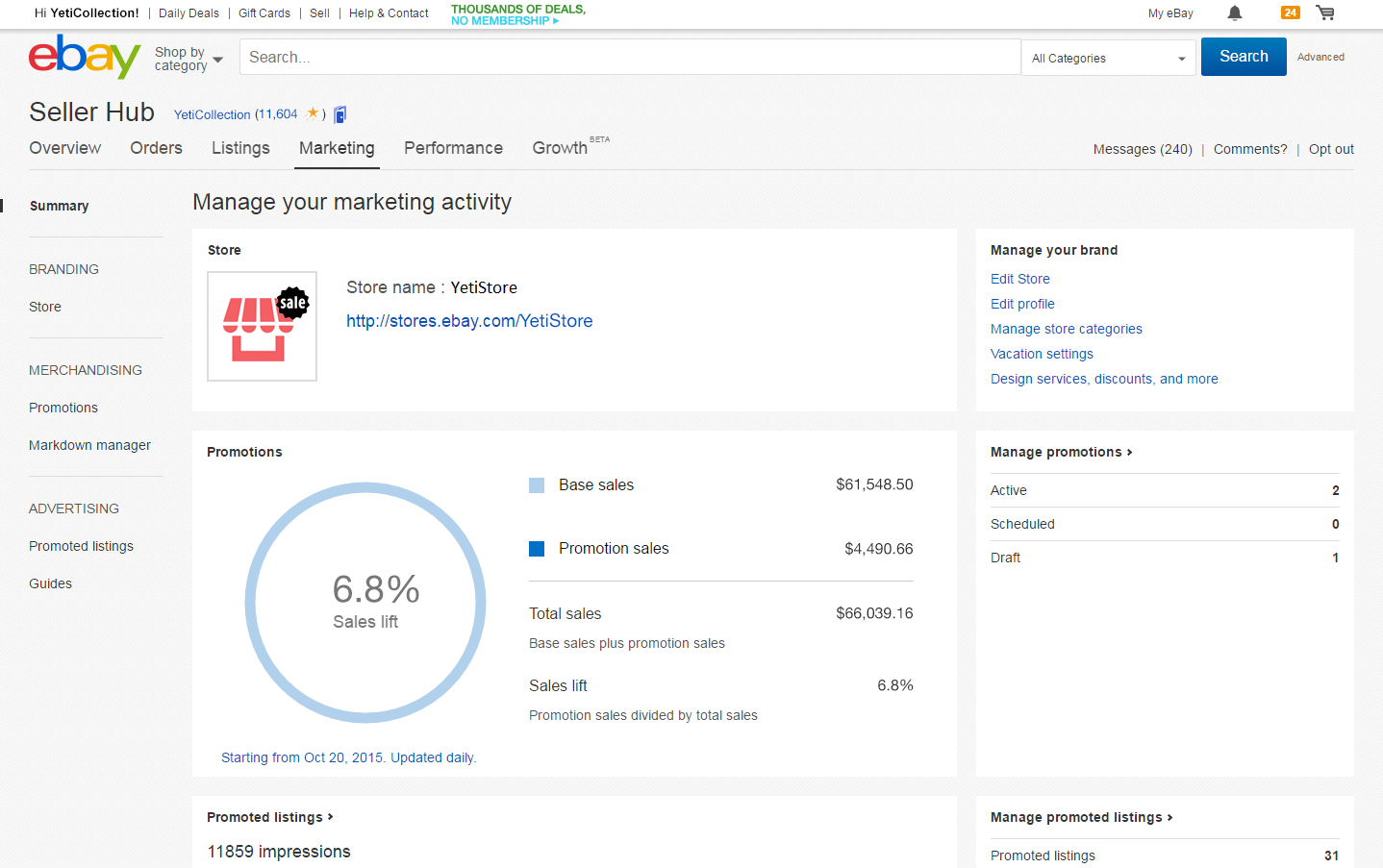 eBay Store subscribers have easy access to marketing tools
All the tools you get with your eBay Store subscription are accessible right in Seller Hub. Manage your Store's marketing activities in the Seller Hub's Marketing tab, making it easy to
Manage your brand by telling buyers who you are and why to buy from you.
Launch Promoted Listings Standard to boost your items' visibility and reach more buyers.
Create promotions to get your items noticed and sell more items per visit.
Send offers to buyers who are interested in your items.
FAQs
I'm using Seller Hub for the first time. Will it change the way I sell?

You'll still get all the tools and benefits you have access to now. Seller Hub gives you even more powerful functionality—and a single destination to manage and improve your entire business on eBay. From Seller Hub you can

Monitor the overall status of your business.
Manage your listings and orders.
Monitor current performance of your business.
Access insights and guidance that can help you grow your business.

Is eBay Seller Hub free to use?

eBay Seller Hub is free to use and includes, listing, reporting and order management functionality. Existing Selling Manager Pro subscribers will continue to be charged $15.99 per month for the benefits of Pro and will have access to Seller Hub. Selling Manager Pro remains free for Premium and eBay Anchor Store sellers.

How can I access my account information from Seller Hub?

You can access your account information from Seller Hub by hovering over your name in the top left-hand corner, above the eBay logo, and selecting 'Account Settings' from the drop-down menu.
*Selling Manager Pro functionality is only available within Seller Hub to eBay Premium or Anchor Stores subscribers and sellers with an active Selling Manager Pro subscription.