Listing Best Practices
From picture taking tips to pricing guidance—here's what you need to list, sell, and score more cash.
The Perfect Listing
There are four parts to the perfect listing.
Title - Item Specifics - Quality Photos - Price
Examples of Perfect Listing Titles:
Fashion
Lululemon Cashmere Sweater Medium Blue Mens V Neck New Long sleeve
Womens Astros Jersey Fits Small Medium Pink Stripe Polyester Vintage 80s Retro
Electronics
Dell Chromebook CB1C13 11.6in Intel Celeron N2840, 2.16GHz 2GB 16GB SSD
Apple TV 4K 32GB HDR 5th Generation Digital Media Streamer MQD22LL/A
Collectible
Hallmark 2019 Disney Beauty and The Beast Bonjour Keepsake Ornament Pre-owned
Dr Doctor Who 12' Deluxe Striped Scarf Fourth 4th Costume Tom Baker BBC Licensed
Pro Tip: Perfect titles AND item specifics help searchability of your listings.
Use our sell flow guidance
Our selling guidance is available within the sell flow to help you keep these best practices in mind.
Best practices
Use quality photos

High-quality pictures encourage your customers' confidence. Follow our photo-taking tips for inspiration and help.

Listing titles

Have a well-structured product title. Front-load your titles with relevant keywords and organize them in a readable, logical order. Don't use acronyms, like NIB, that buyers may not know or understand.

Write clear descriptions

Include detailed product descriptions with brand names, styles, and model numbers. Make sure to include unique qualities and potential flaws.

Use accurate item specifics

When you select item specifics for your listings, provide as many recommended item specifics as possible and choose from the options we provide.

Choose the right listing format

Decide whether auction-style or fixed-price is right for you.

What is Auction-style?
Choose a starting price and your customers can place bids. When the auction ends, the highest bidder buys the item at that price.
What is Buy-It-Now?
For fixed-price listings, your customers know the exact price they need to pay for your item and can purchase it immediately. No bidding required.
List using both
You can add a Buy-It-Now option to an Auction-style listing. Your buyers can either purchase your item immediately or place a bid.

Price competitively

Not sure where to start on pricing? Our guidance is based on similar items sold during the previous 90 days.

Allow offers

Buyers can make offers on your item and you can choose to accept or decline them, or make a counteroffer.

Share your listing

Increase your reach and share what you're listing with your social communities.
Bring your listings to life with videos
You've got a lot to say about your products—text and images don't always cut it. With videos on your listings, you can bring your products to life and capture what images can't.
Buyers can see your videos on the View Item page of the eBay app. Videos appear right after the first image in your gallery, and give you a new way to captivate, inspire, and help close the sale.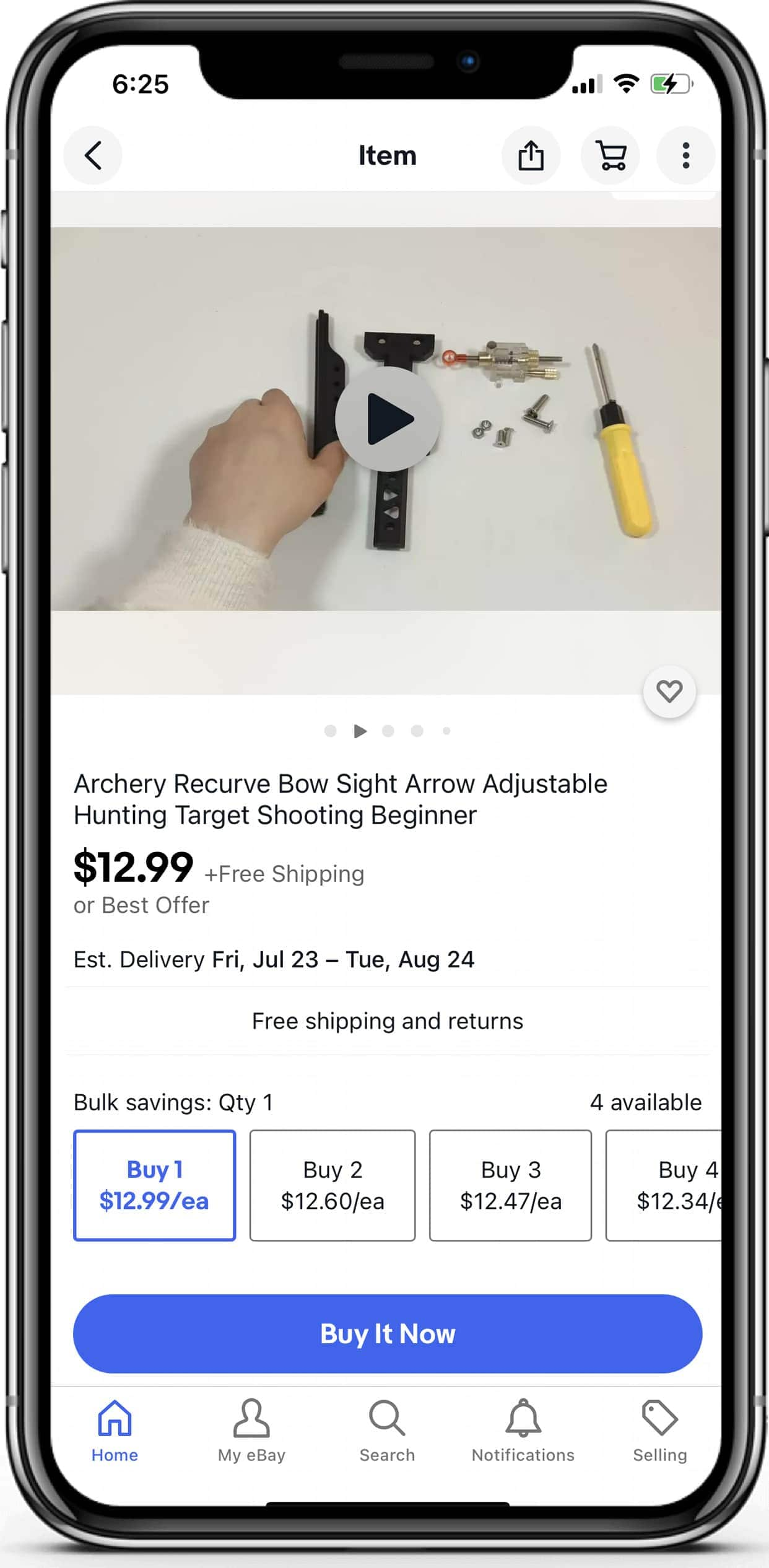 Benefits of adding videos to your listings
Videos can act as your 24/7 salesperson, engaging with potential buyers, answering their most common questions, and showcasing your products.
Stand out from the competition with compelling video content
Deliver a more engaging shopping experience to current and new buyers
Help prevent common buyer issues and returns
Give buyers confidence in the condition and quality of your products
Get the most out of your videos
You can only add one video to a listing, so it's important to choose the right content to make your video count.
There's no one-size-fits-all approach. The right kind of video depends on what you're listing and what resonates with your buyers. Consider common questions, pain points, or reasons your buyers might hesitate, and use videos to:
Let your products speak for themselves
Use videos to capture features, unique characteristics, or different functions. You can show in detail what your product can do, capture full 360 degree views, and demonstrate different versions, colors, or sizes.
Answer buyers' most common questions
Videos are the perfect format to provide instructions and installation guides, demonstrate fit and sizing, or explain any defects or damages. Show what to expect up front, and you're more likely to have happy customers and fewer returns.
Share the vision behind your products
Your listings are more than just products. They're solutions to common problems, inspiration for creative pursuits, or tools to finish that DIY project. Use videos to inspire by showing how your items become part of—and improve—peoples' lives and projects.
Build trust in your products and brand
Videos let you show what goes on behind the scenes to create or source top quality products. Demonstrate your refurbishment process, showcase your products' authenticity, or highlight the quality of the materials you use.
Tell the story behind your product
Sometimes it's the story behind a product that makes the sale. Use videos to tell the story, and help potential buyers connect with you and your products.
Ready to make your listings stand out with videos? Learn how.