Item Specifics
Match to buyers' most frequently searched terms and make your listings easier to find.
What are item specifics?
Item specifics are descriptive keywords that tell a buyer about your item. They may include brand, size, length, width, height, type, color or style and many more, and vary depending on what you're selling.
They're easy to add directly through eBay or within third party tools.
What are the benefits of adding item specifics to my listing?
Item specifics have a direct impact on your visibility within a buyer's search results.
Complete and accurate item specifics can increase the visibility of your listing in eBay search results, Google search, and Google Shopping, and help your buyers find exactly what they are looking for.
Buyers use item specifics to filter their search results, making it easier for them to find exactly what they're looking for. Your item will only appear in those filtered search results if you have added the matching item specific information to your listing.
Item specifics are also very important on mobile search results.
They sit at the top of your item description in a standardized format, giving buyers a clear overview of what they're looking at.
See the tools to help you find and add missing item specifics to your listings now or go directly to Seller Hub.
Item specifics requirements
Over the past year, we've emphasized the importance of item specifics and how they increase the visibility of your listings on both eBay and on external search engines. The more data you give us about what you're selling, the better we can match your item to what a buyer is looking for, either through query search, left-hand navigation filters or category merchandising pages.
New item specifics in the below categories will be required on February 22, 2022 for all new and revised listings.
You can add these item specifics to your listings now, and we encourage you to update your listings as soon as possible.
For item specifics previously released, please see below:
2021 (Fall)
† In Art, Collectibles, Movies & TV, Music, Sports Mem, Cards & Fan Shop, and Toys & Hobbies categories. Note that not all sellers may be able to access selling in this category. For more information, see our Electronically Delivered Items Policy.
2021 (Spring)
2020
2019
We encourage you to also add as many Recommended item specifics as you can. For Recommended item specifics that aren't relevant to a listing, you can select "Don't remind me about these recommendations again" when creating or revising listings through eBay. This will remove that listing from the 'Item specifics—recommended' quick filter as well as tasks and email reminders about missing recommended item specifics.
Bulk edit tools to find missing item specifics
Download/Upload File
This tool is available on the Seller Hub Active Listings page and will allow you to download an Excel file containing all of your active listings that are missing required, soon-to-be required, or recommended item specifics.
To get started, click here to go to the Active listings page, click on Download - Missing required or recommended item specifics.

Open the file once ready, choose from the available values in drop-down menus or adding your own values.

Once you've completed your updates, save the Excel file in CSV format.


Note: Excel will give a warning that you can only save the worksheet you are on. Make sure you are viewing the sheet you are trying to save.

On the Active listings page, click on Upload - Item specifics file.
Select the CSV file you previously saved to your computer and then it will begin the upload process.
Optiseller Aspect Finder+
Optiseller Aspect Finder+ is a third-party tool that can help you quickly identify and update listings that are missing item specifics.*
Features for finding missing item specifics
Required Soon feature
When you list or revise an item, within the listing flow you will see Required soon above item specifics that have an upcoming enforcement date.
Seller Hub will give you information about upcoming item specifics requirements and the dates that will become mandatory for your current listings.

Required Soon Quick Filter
The Required soon quick filter on the active listings page lets you quickly identify listings needing action to ensure item specifics have been added prior to the required date.


Item specifics rankings
In the listing flow, this feature gives you guidance on what the most important item specifics your buyers are searching for using buyer demand data (the number of searches over the past 30 days). Within the Recommended and Additional sections for item specifics, you'll see the most important item specifics at the top. Providing these item specifics will help to increase your product's visibility especially when buyers use the left-hand navigation filters.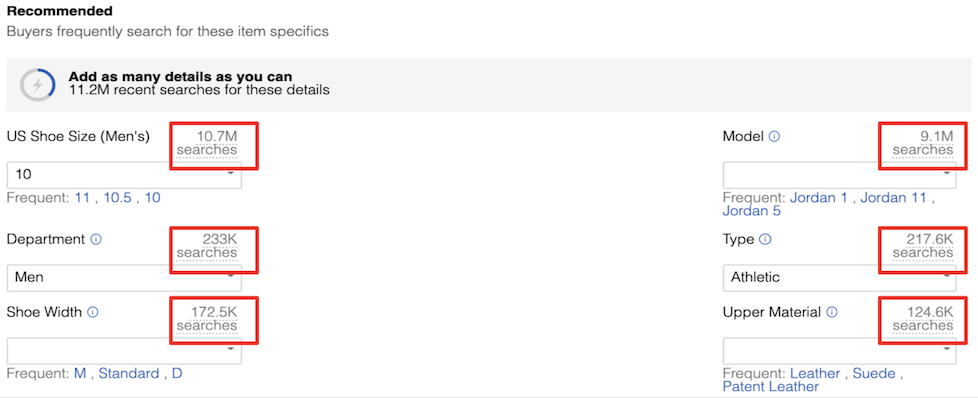 Required item specifics are necessary to successfully launch your listing or complete a revision.
Required Soon item specifics will be enforced in the near future. By hovering over the required soon, you will find the date they will be enforced.
Recommended item specifics provide additional information to your buyers. Item specifics are now ranked in the order most searched within each section so you'll see the most important item specifics at the very top. See item specifics ranking below for more information.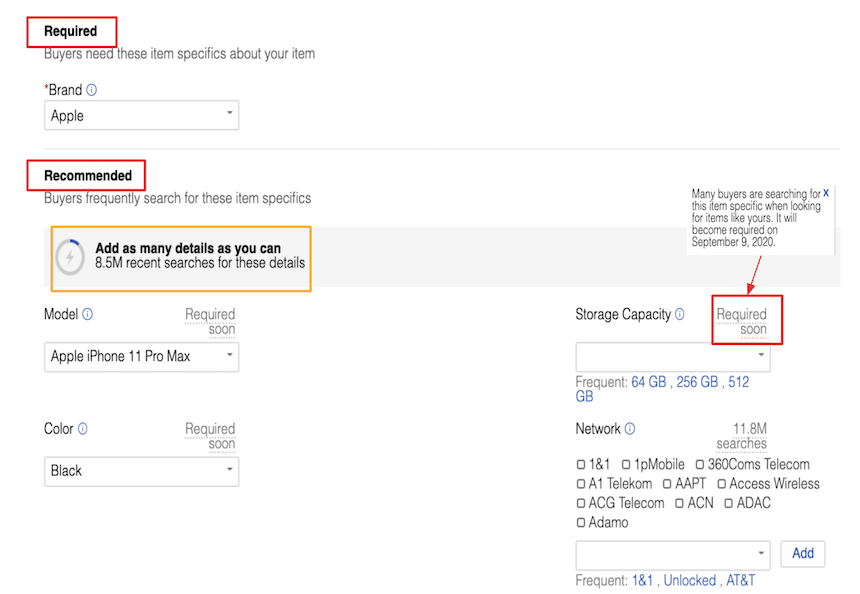 Tip: See how many more searches you match.
The lightning bolt meter moves to let you know how many more searches you will match with each additional item specific you add.
Goal: Try to turn the gray wheel blue!
Bulk revise on the Active Listings page
Quickly update item specifics using the bulk flow on the Seller Hub Active Listings page.
Select the checkbox next to the listings you'd like to update.
Click on Actions - Add item specifics.
Fill in as many missing item specifics as possible.
Click Save and Next to go through them quickly to choose your item specifics.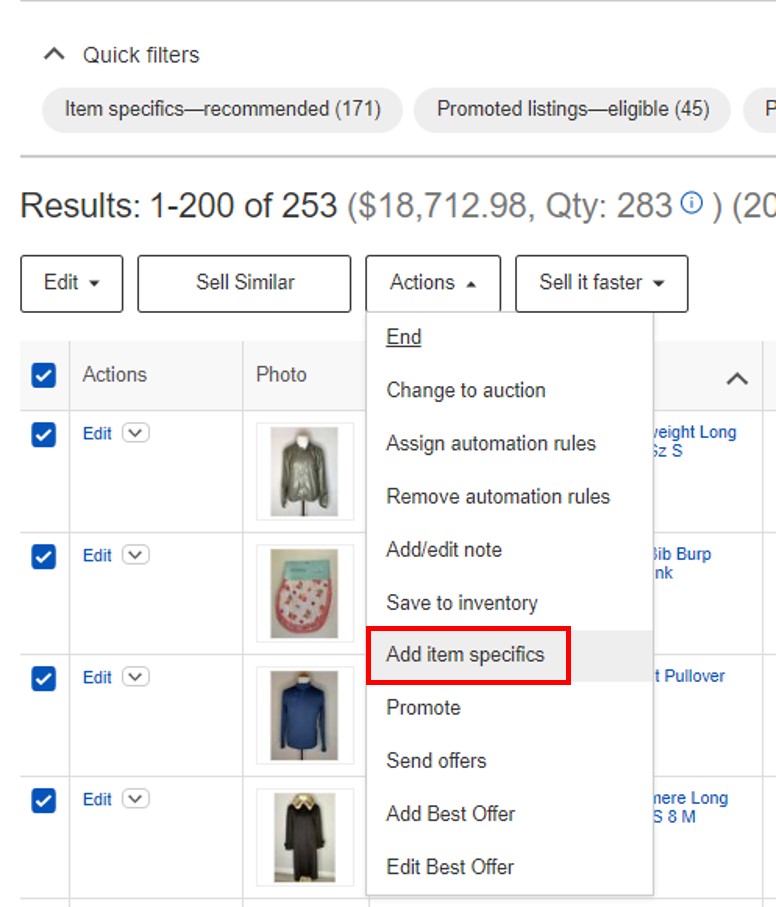 View missing item specifics in the Tasks Module
On your Overview page in Seller Hub, a new task in the Tasks module will let you know when you have listings that are missing required item specifics. Simply click on the task and you'll be taken to those listings.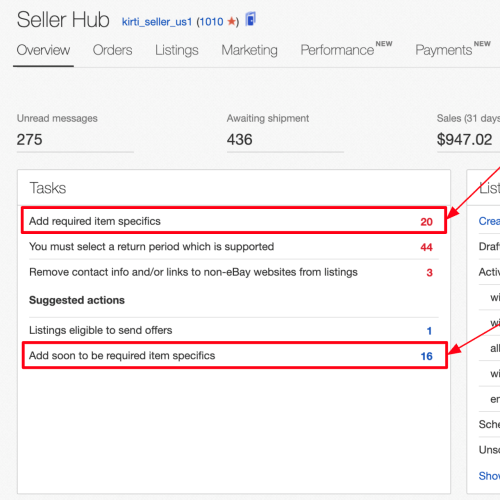 Buyers' in home & garden and fashion categories are 65%† more likely to use filters to narrow down their search results so they can more easily find what they're looking for.
Dress listings with the item specifics "style" and "dress length" completed, sell 81% more than those without.‡
Please note that where we are changing existing item specifics to a new like-for-like item specifics value, we will match these on your listings automatically when your products are renewed, relisted, or revised. If the item specifics have changed and there is no exact match, we won't do this and you will need to update these listings.
In addition, as mentioned in our February Seller News, there are now two places on Seller Hub, My eBay and the app where you can see which of your active listings have missing item specifics.
Listings with multiple variations
Adding variations to your listings lets you use item specifics to group closely related items under a single listing.
For example, if you're selling shoes, you can create a single listing with multiple variations for different sizes.
Items grouped under a single listing need to be closely related, and you can select from a list of variation details (such as size, color, or width) to describe how they are related.
Changes to variation details
As part of our item specifics updates, certain variation details will no longer be valid. This change helps clarify what variations work best as a single listing, and what items are more likely to get noticed as separate listings.
Listings impacted by this change will display the following error message when you edit them: "This attribute is not valid for this variation. Add a valid attribute."
If you see this message, first try to update your listing. Look for an existing variation detail that more accurately describes how the items are related. For example, a listing for a kitchen faucet may have previously used "Type" to describe the variations "Stainless steel", "Rubbed Bronze", and "Chrome. This could be updated to "Finish."
If you can't find a relevant existing variation detail, you'll need to create separate listings. For example, a listing for tools may have used "Type" to describe variations for "Hammer," "Wrench," and "Screwdriver." In this case, the items are not closely related enough to fall under a single listing. The variation "Type" will need to be removed and the items re-listed separately.
Making these changes helps your listings with multiple variations show up in the right searches, and helps buyers feel confident in their purchase.
Personalize with eBay
Selling your personalized inventory is easy with our new item specific feature that allows you to easily communicate to the buyer what information you will need to personalize an item. Your customers can add their personalized text on the View Item page of your listings in certain categories, which can then be sent to you using the "message to seller" option. They can also filter for personalized listings when they search for items.
To set up your personalized listings, you'll need to take the following action:
Add the "Personalize" item specific to your relevant listings
Provide personalization instructions for your customers
Turn on the "message to seller" option
If you've previously used the personalization item specific, make sure you complete step 2 and 3 above to add this experience to your listings.
This option is currently available in certain categories in the following areas:
Home & Garden
Clothing & Accessories
Jewelry
eBay for business
Choose to make your listings personalized.
*Additional charges apply.
†Data collected between July-Sep 2018.
‡Report comparing average sales value per listing for listings with item specifics "dress length" and "style" vs those without from December 2017-July 2018.